Podcast: Play in new window | Download
Subscribe: RSS
It's May, y'all! AND Mother's Day week. AND Foster Care Awareness Month. AND we're nearing the sun-soaked days of summer—which often means extra time with the younger humans in our lives.
And that's why we're THRILLED to have Amanda Torres as our guest today at The Messy Table. Sharing the unexpected messes and mercies of motherhood with LaTonya Pratt and Jenn Jewell, Amanda's shedding light on the challenging-yet-meaningful work of biological, foster, and adoptive mamas.
"God's faithful to prepare your heart for what He's asking you to do."  —Amanda Torres
Honest, witty, and down to earth, you'll want to be Amanda's friend by the end of the conversation. Join us!
CONVERSATION NOTES
Oklahoma Fosters | Amanda's Arbonne Business
Jesus the King by Timothy Keller | Waking the Dead by John Eldrege
The 7 Decisions by Andy Andrews | Garden City by John Mark Comer
God Behind Bars | Tulsa Women and Children's Center
Blue Letter Bible | YouVersion | The Bible App for Kids
Life.Church | Life.Church Sisters | Church on the Move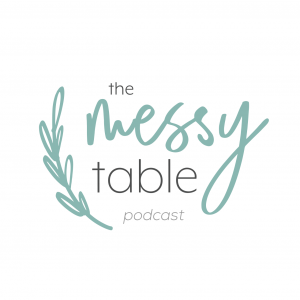 WHEN MOTHER'S DAY IS COMPLICATED
Oh, hey. If Mother's Day is especially hard on your heart, check out these important past episodes …
FOR THOSE STRUGGLING WITH INFERTILITY: Ep. 64 with Carol McLeod [Becoming a Woman of Defiant Faith], Ep. 77 with Caley Porter [When Mother's Day Hurts] and Ep. 91 with Adrienne Bley [Waiting on God]
FOR THOSE WHO'VE LOST BABIES: Ep. 42 with Rachel Leslie [Embracing Goodbye], Ep. 70 with Keri Young [Finding Grace Between Heaven and Earth], and Ep. 115 with Alyson Brown + Kelsi Cole [A Tragic Honor]
FOR THOSE WHO'VE LOST CHILDREN: Ep. 49 with Jennie Lusko [Unspeakable Loss + Unshakeable Hope], Ep. 52 with Kate Merrick [Show Up for Your Actual Life], Ep. 79 with Emily Freeman [Trusting God in Life and Death], Ep. 95 with Jamie Jobe [Beauty From Ashes]
FOR THOSE WHO'VE HAD AN ABORTION: Ep. 54 with Toni McFadden [Hope After Abortion]
FOR THOSE WITH BONUS KIDS: Ep. 66 with Kim Duncan [Embracing the Untraditional :: Singles, Stepmoms, and Blended Families]
FOR THOSE WITH A CHILD WITH SPECIAL NEEDS: Ep. 106 with Heather Brower [Does God Really Work All Things Together for Good?]
No matter what, you are not alone.